Club 15" was the greatest CBS radio musical show of the 1950s! The stars: Dick Haymes & The Andrews Sisters! This high-energy show was broadcast live from The Columbia Square Playhouse in Hollywood five nights each week. Nearly all Haymes & Andrews Sisters collaborations included here are making their debut in all formats! Tracks include: "The Last Mile Home", "Quicksilver", "Copper Canyon", "Room Full of Roses", "She Wore a Yellow Ribbon", "That Lucky Old Sun", "Nobody's Darlin' But Mine", and many more - all of which scored high on the charts. Also included are standards: "Stardust", "Great Day", "It's a Grand Night for Singing", "Rollin' Round the World" & many more. The Dick Haymes-Patty Andrews duets were totally lost to time, until now. The fidelity of this set (as well as the forthcoming "Volume 2") is no less than superb! A truly dynamic collection celebrating the best in entertainment
Club 15" was the greatest CBS radio musical show of the 1950s! The stars: Dick Haymes & The Andrews Sisters! This high-energy show was broadcast live from The Columbia Square Playhouse in Hollywood five nights each week. Nearly all Haymes & Andrews Sisters collaborations included here are making their debut in all formats! Tracks include: "The Last Mile Home", "Quicksilver", "Copper Canyon", "Room Full of Roses", "She Wore a Yellow Ribbon", "That Lucky Old Sun", "Nobody's Darlin' But Mine", and many more - all of which scored high on the charts. Also included are standards: "Stardust", "Great Day", "It's a Grand Night for Singing", "Rollin' Round the World" & many more. The Dick Haymes-Patty Andrews duets were totally lost to time, until now. The fidelity of this set (as well as the forthcoming "Volume 2") is no less than superb! A truly dynamic collection celebrating the best in entertainment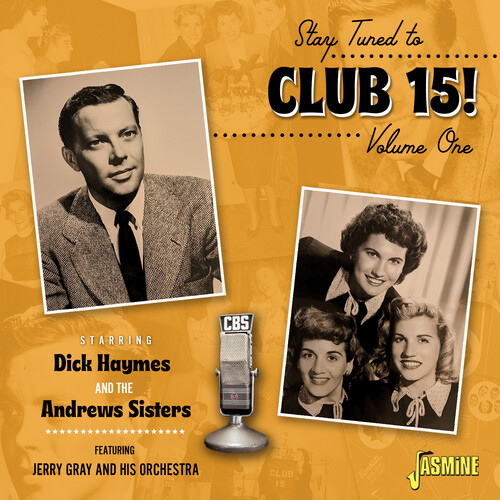 Details

Format: CD
Label: JASMINE RECORDS
Rel. Date: 05/19/2023
UPC:

604988277722
Formats and Editions
1. Another Opening, Another Show / There's No Business Like Show Business
2. I'm Never Too Busy to Say "Hello"
3. Great Day
4. Copper Canyon
5. The Bicycle Song (Bi-Bi Bicycle)
6. Charley My Boy
7. It's a Grand Night for Singing
8. Room Full of Roses
9. The Freedom Train
10. Daddy's Little Girl
11. Give Me Your Tired, Your Poor
12. She Wore a Yellow Ribbon
13. Give Me a Little Kiss, Will Ya Huh?
14. I See I See (Asi Asi)
15. Have I Told You Lately That I Love You?
16. I Don't Want to Be Kissed By Anyone But You
17. I'd Love to Call You My Sweetheart
18. It's a Fine, Fine Day
19. Ragtime Cowboy Joe
20. Never Underestimate the Power of a Woman
21. Quicksilver
22. Stardust
23. Hush, Little Darlin'
24. Tell Me a Story
25. Rolling 'Round the World
26. I'm An Old Cowhand
27. Nobody's Darlin' But Mine
28. Is It True What They Say About Dixie?
29. The Last Mile Home
30. Copy Cat
31. Weddin' Day
32. There's No Man Like a Snowman
33. Pushcart Serenade
34. Pass the Basket
35. That Lucky Old Sun
36. Twenty-Four Hours of Sunshine
37. (Time Has Come to Bid You) Adieu
More Info:
Club 15" was the greatest CBS radio musical show of the 1950s! The stars: Dick Haymes & The Andrews Sisters! This high-energy show was broadcast live from The Columbia Square Playhouse in Hollywood five nights each week. Nearly all Haymes & Andrews Sisters collaborations included here are making their debut in all formats! Tracks include: "The Last Mile Home", "Quicksilver", "Copper Canyon", "Room Full of Roses", "She Wore a Yellow Ribbon", "That Lucky Old Sun", "Nobody's Darlin' But Mine", and many more - all of which scored high on the charts. Also included are standards: "Stardust", "Great Day", "It's a Grand Night for Singing", "Rollin' Round the World" & many more. The Dick Haymes-Patty Andrews duets were totally lost to time, until now. The fidelity of this set (as well as the forthcoming "Volume 2") is no less than superb! A truly dynamic collection celebrating the best in entertainment
back to top